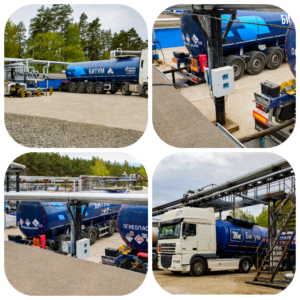 JSC Izolyatsia has been leading its history since 1994. Its modern name was registered by the Brest Regional Executive Committee on February 14, 2000 to replace the previous one – OAO Gidrostekloizol. In 2022, Izolyatsia joined the NAVRGROUP group of companies (www.navr.by).
The main activity of the enterprise for many years was the production of rolled roofing and waterproofing materials. Since 2000 The company's product range has been constantly expanding.
Equipment for the production of roofing tiles based on a bitumen polymer binder for pitched roofs was put into operation, the production of cationic bitumen road emulsions, bitumen-polymer cold mastic, bitumen-polymer primer, organo-mineral stored repair mixture (SOMS), modified bitumen based on SBS polymers was mastered. Modified bitumen and emulsions produced by OJSC Izolyatsia were successfully exported abroad during 2019-2021.
In the second half of 2022, a complex for the production of petroleum bitumen was installed and put into commercial operation at the production site of OJSC Izolyatsia, which allows the company to produce road bitumen of various grades.
The assortment list of manufactured products using own raw materials (petroleum bitumen) is planned to be constantly expanded through the introduction of innovative technologies and taking into account the needs of the market.
The fleet of storage tanks available at the enterprise allows for the acceptance of raw materials and the shipment of finished products by rail tank cars and tank trucks. OJSC Izolyatsia has its own access railway lines.
The enterprise has its own testing laboratory equipped with modern equipment, which allows to control raw materials and quality of finished products in accordance with all parameters of standards and specifications. We received the "Certificate of Technical Competence of the Laboratory" in 2022.
OJSC Izolyatsia is a modern, highly efficient and dynamically developing enterprise that makes a significant contribution to the provision of road construction and construction organizations of the Republic of Belarus with bituminous materials. The company is also ready to cooperate with foreign partners.
The company's team consists of highly qualified specialists who are ready to master new technologies and guarantee the quality of products.